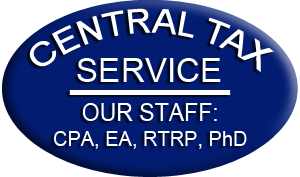 Welcome to Central Tax Service
Central Tax Service handles income tax matters for individuals, couples, families, estates, trusts, and small business owners or professionals. Don't pay more tax than required by law!
Please schedule two 60-minute appointments if you wish to do both your individual tax return as well as a tax return for your Corporation, Trust, Estate or Partnership.
Your appointment will be confirmed within 24 hours.
Our service is distinguished by close personal attention to your tax preparation. The objective of every tax return preparation and income tax planning engagement is to ensure you pay the lowest possible tax allowed by the tax rules this year and in future years, so your assets can grow.
Available tax services include federal and state income tax return preparation, preparation of amended tax returns to reflect post-filing changes in a tax situation, and income tax planning for multiple years or specific situations (such as saving for college or claiming proper deductions and/or credits for education expenses).
Central Tax Service also offers representation for taxpayers facing audits, tax collection actions or tax appeals. An authorized representative can deal with the IRS on behalf of the taxpayer to deal with back taxes or other tax problems. In most cases, the taxpayer with an authorized representative does not have to personally attend IRS audits or hearings.
We communicate with our clients primarily via mail, e-mail, phone and fax. Most of our clients require Minnesota income tax returns as well as federal tax returns, but we prepare any state income tax return a client requires.
Pick-up and delivery of tax organizers, checklists, and tax returns are available via email or US Mail. We have a locking mailbox if you wish to drop off tax papers prior to your appointment or if you wish to drop off missing information.
EASILY LOG YOUR BUSINESS MILES
Looking for some software that keeps track of your business miles for you?
All it requires is a cell phone. It will email you with a report and you can categorize the trip for tax reporting. Just click on this link. It does have an annual fee, but it is well worth the money if you are self employed and are tired of using a logbook.
File Online
Looking for an "online" software for doing your own taxes online?
For those that want to do the "Do It Yourself" method, here is a link to a very good online company. Their software is written by the same authors that write the professional software that we use. They have terrific support. Simply click the image below. Best wishes.