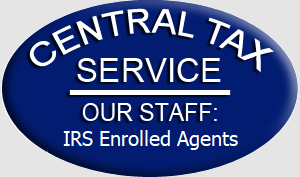 Welcome to Central Tax Service
Central Tax Service handles income tax matters for individuals, couples, families, estates, trusts, and small business owners or professionals. Don't pay more tax than required by law!
About Company
We are a small firm, but that is how we focus on you. You won't get lost in the jumble and you won't be surprised by the work we do. We strive to give you one-stop shopping for your tax-related needs.
Staff
Randy Valtinson is the Owner of Central Tax Service. He has experience with individual as well as all types of business tax returns. Randy is an IRS Enrolled agent and has numerous years of experience preparing taxes at both a CPA firm and at a nationwide tax firm. In addition to being an IRS Enrolled Agent, he holds a Minnesota Life and Health Insurance license as well as a Real Estate License. Randy is not a salesman trying to sell you a product, he simply maintains these licenses so he can stay current in these areas.

Scott Veencamp is an IRS Enrolled Agent. He has a great deal of tax knowledge, and really enjoys taking care of his clients. While attending the University of Minnesota he was awarded the Presidential leadership award. Scott is a former eagle scout and continues to be an avid motorcyclist. He joined the team in 2015 and had known Barb Hoium for over 10 years.