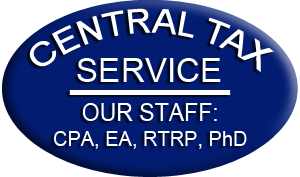 Welcome to Central Tax Service
Central Tax Service handles income tax matters for individuals, couples, families, estates, trusts, and small business owners or professionals. Don't pay more tax than required by law!
News
My wife Helen likes to write and has a number of published tax articles. All of her tax-related news stories are published in a local Chinese newspaper in the twin cities. If you read mandarin, let us know and we will tell you were to pick up a copy of the newspaper where she is published.
The Internal Revenue Service is now requiring all tax practitioners to pay a fee and take an examination to be approved to prepare taxes. We are pleased to announce that Steve Billings successfully passed the Registered Tax Return Preparer, (RTRP) examination on the first try, with flying colors. Not much of a surprise for someone that has been preparing taxes for 30 years. Congratulations, Steve.
Items of interest
Tax Organizer

The "tax organizer" that is normally sent out is being replaced by a "tax checklist" for our returning customers. The tax checklist is a very short checklist of things you will need for your tax appointment. Please note, if the checklist lists your quick-books report and you don't use quick-books, don't worry about bringing it.



New Location

Our location is 4141 Central Ave NE, Suite 107, Columbia Heights, MN 55421.



Parking

There is plenty of parking at our new location. No need to worry.



Drop-off

With a busy schedule, many of our customers mail-in or drop off tax information. Please know that we have a locking mailbox for you to drop off your tax paperwork if you wish.